Goshen High School

Ohio Class A State Champions-1958

The spring of 1958 was an historic time for a group of Goshen teenage boys. On Saturday, May 24 they successfully completed their journey to become the best Class A baseball team in Ohio. The community celebrated their accomplishment and seventeen boys became small town heroes

, forever to be role models for future generations of Warriors.

The success of the team had its beginnings in the early 1950's when a small group of kids began playing together as eight and nine year old members of the Goshen Knothole Association. Summers were spent learning the game under the guidance of Coaches Lloyd Heisler, Larry Brunson, Dick French, Dan Heisler and several others. There were no thoughts or dreams of future league, district, regional or state championships. They were a group of kids and friends having fun playing baseball. These early years of the knothole program were financially supported by Francis Fagin, Lloyd Floyd and Jim Rhein. Without their support there might not have been bats, balls and gloves for these kids of modest means. Parents played an important role as they supported the team each step along this long but wonderful journey.

The nucleus of the eventual state championship team included Bill Faul, Jerry Faul, James Gray, Lytle Brown, Randy Moore, Tim Moore, Jerry Sullivan, Dick Mahorney, Bill Christman and Lehman Kinnaird. Other players became part of the team as their families moved into the community. Over the years, Don Webb, Jerrold Bradley, Earl Lindholz, Charlie Lonaker, James Gillaspy, Gary Howell and Don Howland became members of the team.

Without question, an important part of the success of the team was their ability to play the game the right way with some very talented players and good coaching. Another strong factor in their success was the bond that existed among the players. They played together as classmates and friends participating in school activities throughout their childhood. Most of the team members played on all the school teams including baseball, football, volleyball, basketball and track. They were very successful in these sports as well. Years of playing and competing together formed a strong bond within the group. The freshman and sophomores on the team became members of the 1960 Ohio State Semi-finalist baseball team as well.

Coach Joe Denehy was in his first season as Goshen's baseball coach. Not having seen the team play, he was skeptical of the community's high expectations which were based on the previous three seasons when the Warriors showed their potential to be successful. Not long after the season began

, Coach Denehy realized he had a team that possessed outstanding speed, strong defense and great pitching. All three factors contributed to the success of the team. He soon realized that there was something special about this team.

The 1958 season began with the Warriors having an undefeated regular season. Entering the Clermont County Championship, they bested Amelia 4-0. Bill Faul dominated Sardinia (6-0), Batavia (10-0) and Cincinnati Country Day (7-0) as the Warriors won the Southwest Ohio District Championship. Goshen held their opponents scoreless in winning the county and district championships. The following weekend the Warriors defeated Sabina (8-1) and Jeffersonville (5-2) in 11 innings to win the Regional Championship.

The weekend of the Ohio State Championship promised to be a challenge for the Warriors

. For most of the team members it was their first time to visit Columbus and their first time to stay in a hotel without their parents. The championship games were played in the shadow of the famous Ohio State football stadium. The semi-final game Friday was against Elida. Elida was led by their outstanding pitcher and future major league pitcher Dean Chance. Bill Faul would also become a major league pitcher after becoming the University of Cincinnati's most successful pitcher from 1958-1962. The Warriors defeated Elida 7-0 and qualified for the championship game on Saturday. Saturday's championship game was an outstanding pitching duel as Gnadenhutten's pitchers gave up six hits and three runs while Faul and the Warriors allowed only one run on three hits. All runs were scored in the first inning as both teams exhibited some nervousness of playing in their first state championship. The top of the seventh inning started with Gnadenhutten's first batter hitting a double. Faul retired the next batter and the final two outs were routine fly balls to second baseman Lytle Brown.

At the moment of the final out, seventeen excited screaming teenagers and one coach threw their hats and gloves into the air and hundreds of Goshen fans celebrated winning of the 1958 Ohio Class A State Championship. The championship team was met by the fire department, school officials and many supporters as they returned home with their coveted state championship trophy amidst a surprise welcoming home celebration.

Just as they were successful on the ball field, members of the 1958 Ohio Class A Championship team became successful adults in their chosen careers and professions. Without the support and help from their parents, coaches and teachers this might not have been possible.

State Championship Lineup

Other Team Members

James Gillaspy-Junior—Leftfield Bill Christman-Senior-Outfielder

Randy Moore-Senior-First base Lehman Kinniard-Junior-Catcher

Bill Faul-Senior-Pitcher Jerrold Bradley-Junior-Outfielder

James Gray-Senior-Shortstop Tim Moore-Sophomore-Infielder

Don Webb-Senior-Right field

Dick Mahorney-Sophomore-First base

Jerry Sullivan-Junior-Third base Earl Lindholz-Freshman-Pitcher

Jerry Faul-Sophomore-Centerfield Gary Howell-Freshman-Infielder

Don Howland-Junior-Catcher Charles Lonaker-Freshman-Outfielder

Lytle Brown-Sophomore-Secondbase Garland Adkins-Manager

Joe Denehy-Coach
---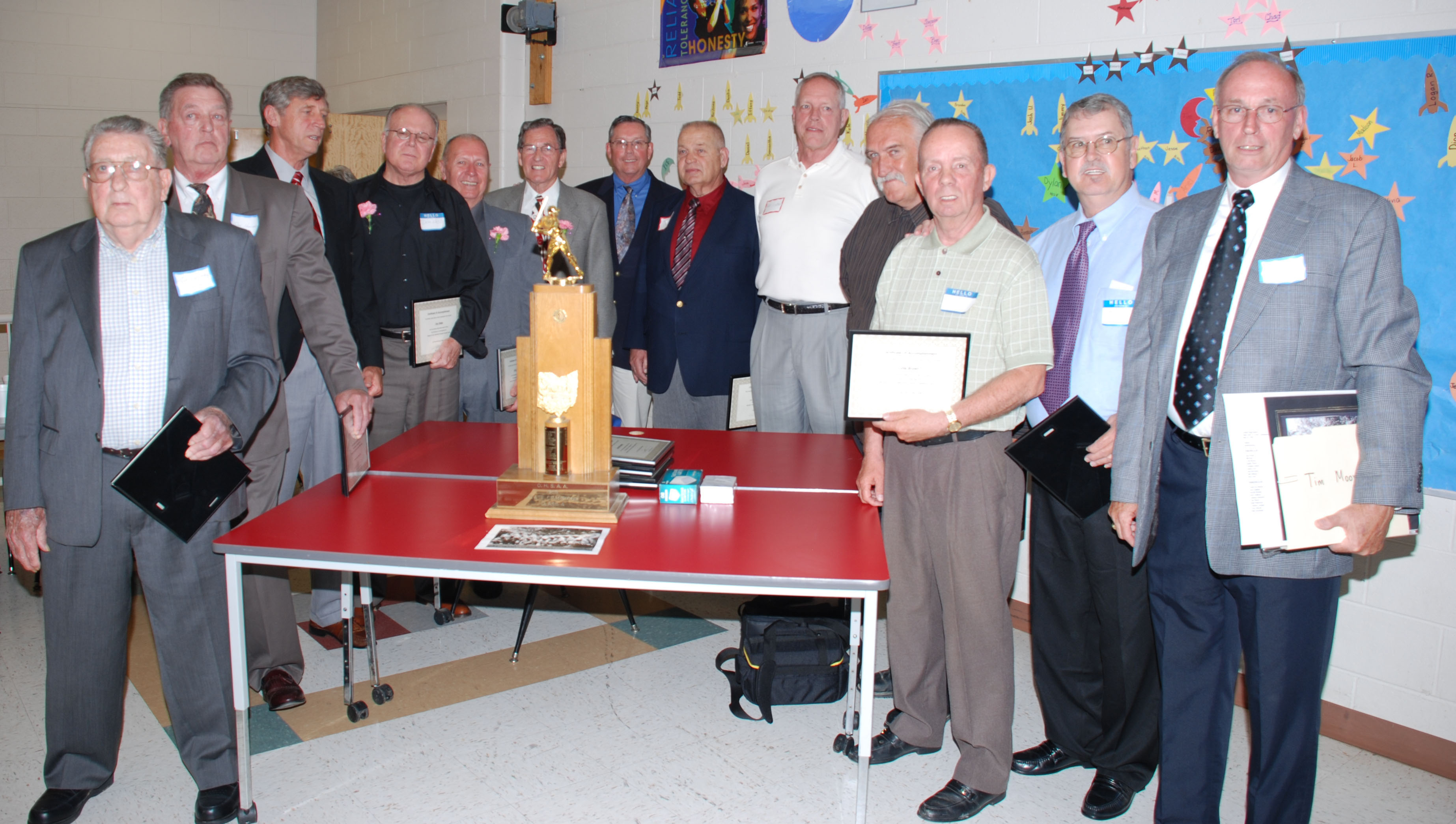 Gerald Bradley, Bill Christman, Bill Faul, Jim Gray, Randy Moore, Don Webb,
Jim Gillespy, Don Howland, Lehman Kinnaird, Jerry Sullivan,
Lytle Brown, Jerry Faul, Dick Mahorney, Tim Moore,
Garland Adkins, Gary Howell, Earl Lindholz, Coach Denehy
Goshen was state baseball champion in 1958

     It is very hard to believe that it will be 50 years ago next month Goshen won 
the Class B Ohio state baseball championship.
Goshen's state title was only the second team title won by a Clermont County 
high school. The first was the Amelia varsity baseball team"s Class B state 
crown earned on May 27, 1950.


     Like all county high schools in those days they were much smaller in enrollment 
and Goshen's crown was won in the small school, or A class. The senior class of 
1958 had 51 members, 28 of whom were boys, and six of them played on the 
baseball squad.
     A young man by the name of Joe Denehy was hired to teach and coach at Goshen 
High School beginning with the fall of 1957.
 
     The members of the Goshen state champions were, front row from left, Don Webb 
(right field), Bill Faul (pitcher), Lytle Brown (second baseman), Randy Moore 
(first baseman), Garland Adkins (manager), Jim Gray (shortstop), Don Howland 
(catcher), Jim Gillaspy (left field), and Jerry Faul (center field); back row, 
Joe Denehy (coach), Earl Lindholz (pitcher), Gerald Bradley (utility), Jerry 
Sullivan (third base), Lehman Kinniard (utility), Tim Moore (utility), Dick 
Mahorney (utility), Charles Lonaker (utility), Gary Howell (utility), and Bill 
Christman (utility). 

     He is very fondly recalled by many of those who played for him. 
     One of those is Jack Bailey who was a sophomore during the 1957-58 school year. 
He went on to be a very successful coach himself and in the county is primarily 
remembered for his success at Clermont Northeastern High School where he is a 
member of that school's sports hall of fame.
   He said, "Coach Denehy was a tremendous coach in every sport he coached. He 
brought so much to our athletic program and meant so much to all of us."
    Denehy had previously coached at Simon Kenton High School (now East Clinton). 
When he left Goshen he became a guidance counselor at Mason High School.
    He recalled those days at Goshen High.
    "I was a new coach. It was my first year there (Goshen). I heard the team had 
good talent coming back from a pretty good year before (only one loss to 
unbeaten Amelia). It was a whale of a ball club. The first six batters could 
reach first base in less than four seconds and that's major league stuff. No one 
was ever thrown out attempting stealing...Jim Gray (senior shortstop) had major 
league potential.
    "We all felt that beating Amelia for the (Clermont County) league championship 
would be our toughest game of the season. We played them on Monday of the state 
tournament week, so it was a big boost for us."
    Goshen compiled a 16-0 record for the season including senior right hand ace 
Bill Faul's 4-0 shutout of the Barons.
    The Warriors' home field was the same on which Sam Leever "The Goshen 
Schoolmaster," pitched before he began his illustrious 12-year major league 
career in the early 1900s. On this same field in 1898, future new York Yankees 
manager and Professional Baseball Hall of Fame member Miller Huggins, a friend 
of Leever's, led the Goshen community team to a victory over the Cincinnati 
Reds. Another pro hall of famer, Honus Wagner, a Pirate teammate, is also 
believed to have played ball with Leever and Huggins on this field. 
     The field is still used for ball playing. It is located on the northwest corner 
of Goshen Road and state route 28 next to the building that was Goshen High 
School during the state championship season.
     In the district tournament, the Warriors, Faul pitching each game, shut out 
Sardinia (now Eastern Brown) 6-0, Batavia 10-0, and Cincinnati Country Day 7-0.
     Faul was the winning pitcher in both regional games, 8-1 over Sabina and an 
11-inning thriller, 5-2, over Jeffersonville.
     In the state championship tournament that took place at Ohio State University, 
in Columbus, the Warriors defeated Elida 7-0 and Gnadenhutten 3-1. The 
championship game took place on May 24, 1958.
    Faul earned 13 decisions on the mound that season, all victories.
    He went on to become a scholarship player and only the second first team 
All-American to play on the diamond at the University of Cincinnati (1961 and 
1962), following only the legendary Sandy Koufax of Los Angeles Dodgers fame. 
His major league baseball career began in 1962 when he signed as an amateur free 
agent with the Detroit Tigers and concluded in 1970 with the San Francisco 
Giants. He also pitched for the Chicago Cubs.
    Gray became an ordained minister. He said, "We had a very close team. There were 
no problems among us. We were built around an outstanding pitcher. Bill rarely 
gave up any runs...Amelia always gave us trouble, they had a good pitcher in 
(left hander and future All-American from Miami University) Bobby Cann.
    Cann was later introduced to his future wife, Mary Ann Fischer, a Goshen 
cheerleader and freshman in '57-'58, by Bailey.
    "Batavia's catcher Jerry Fitzgerald was the only batter I knew who could hit 
Bill consistently. He had a habit of hitting line drives through shortstops. 
    "I remember we had great games in the regionals. Most of the tournament games 
were pretty easy. I kept hitting long fly balls for outs the last two games."
     Gray was lauded by his teammates. In an interview made years ago, Lytle Brown, 
who was the starting sophomore second baseman, said, "We always looked to Jim 
for the big hits. We could always count on him." Other teammates said he was the 
best they had ever seen play his position.
     Bill Faul was the premier pitcher in the area. He fired 25 no hitters during his 
prep career and it is believed his high school career record was 40-2.
        Faul passed away in 2002, but in an interview this writer made many years ago, 
Faul said, "I no-hit Moscow every year. Amelia was always the hardest to beat 
for me." 
    Stanley Anstaett, legendary Amelia High baseball coach, led the Barons to 26 
Clermont County League titles and a state crown in the 32 years he coached at 
the barony (1931-62). In a conversation with this writer many years ago, he 
said, "Bill Faul's mother used to sit behind home plate at every game and it was 
she that called all of Bill's pitches. And she always yelled 'Come on Billy! 
Come on Billy!'"
     The Warriors' ace stood 5-foot, 10-inches and during his major league career he 
weighed between 180-190 pounds. He fired a sidearm, almost submarine 
(three-quarters underhand) fast ball that had opposing right hand batters 
bailing out of the batter's box. He continued to pitch for many years after the 
conclusion of his major league career. 
     He still owns several UC records - 24 strikeouts in one game, 0.80 season (1961) 
and 1.91 career (1961-62) earned run averages, 133 strikeouts in one season 
(1961), 295 career strikeouts, and .162 season and .177 career batting average 
by the opposition.
    He recalled the state championship tourney, "In the semi-finals we played Elida. 
Dean Chance pitched for them. He ended up pitching for the California Angels. 
    "In the final game, coach Danehy thought I was getting tired. I fielded a bunt 
down the third base line and fell down, but I had plenty on the ball to throw 
out the runner. He knew my arm was still strong and I finished the game."
    Faul's brother, Jerry, was a sophomore on the team. He helped lead Goshen to the 
state tournament two years later, but the Red and Gray was eliminated in the 
semi-final contest in Columbus. He was the starting centerfielder for the state 
titlists of '58.
    He, too, went on to pitch at the University of Cincinnati. While a Bearcat, 
several times he won both games of a doubleheader.
     At their Pleasant Plain home, the Faul brothers worked on their pitching 
together. "I caught Bill every night for practice. We worked quite a bit 
together on pitching," the younger Faul said.
    Brown remembered the 1958 season, "We never went out thinking we were going to 
get beat. We had a good pitcher, good hitting, and strong defense. We didn't 
play in too many close games."
    In the state championship battle with Gnadenhutten, Danehy started, in batting 
order, Jim Gillaspy, junior left fielder; Randy Moore, senior first baseman; 
Bill Faul, senior pitcher; Jim Gray, senior shortstop; Don Webb, senior right 
fielder; Jerry Sullivan, junior third baseman; Jerry Faul, sophomore center 
fielder; Don Howland, junior catcher; and Lytle Brown, sophomore second baseman.
     Danehy recalled a conference with his team just before the state title showdown. 
"I just started out telling the team that this was going to be the last 
opportunity that we'll have to play as a team."
     The Warriors took complete advantage of that opportunity. The opposition scored 
its lone run in the first inning as a bouncing ball went through the middle of 
the infield. Gillaspy scored for Goshen during its first time at bat. Webb, who 
had two hits in the game, drove in the winning run and later an insurance run as 
teammates Moore and Bill Faul scored the runs. 
 
Copyright © 2011 Clermont Sun Publishing Company.