Goshen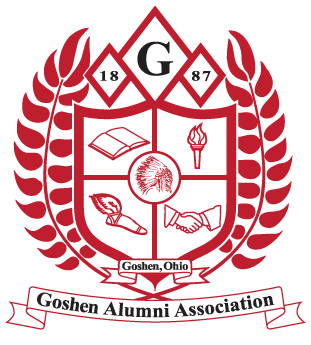 Alumni

Association

2014 Newsletter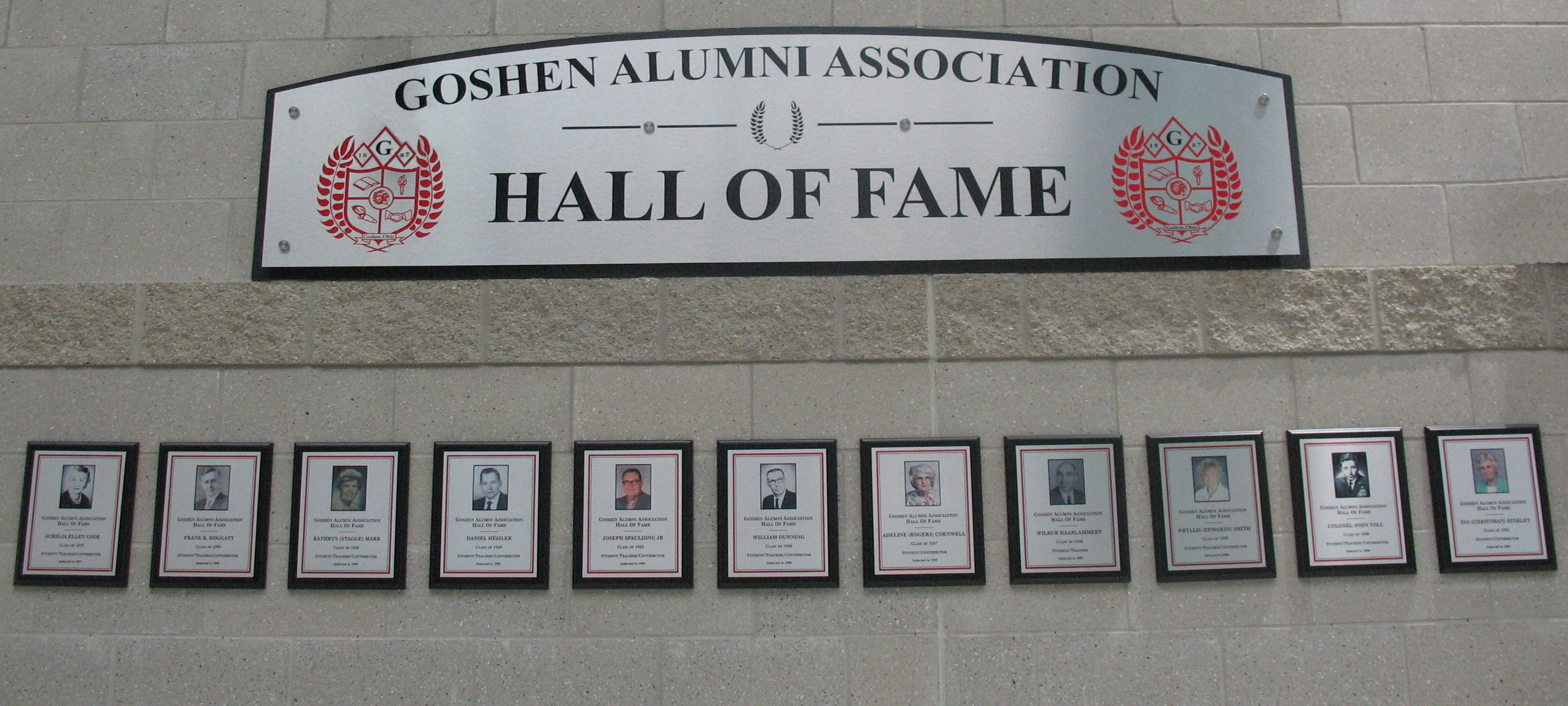 Last May, the Goshen High School Alumni Association installed the sign and the first eleven GHS Hall of Fame plaques in the high school lobby. At this year's banquet, another 15 plaques will be revealed by the Hall of Fame Recipients. We will be installing plaques for Rosemary Schrichten, Geronda Dale, Art Snider, Charles Eades, Robert Hines, Steve Schwinn, Virgil Murphy, Linda Cornwell Brown, Dorothy Roudebush Mosbacker, Charlene Morris Thomas, Bill Smith, and James Gray. Please join us as we honor again those individuals who make us so proud to be Goshen grads.

The GHS Alumni Association is pleased to announce that Robert Schanz, Deceased Goshen High School War Veterans, and William Carl Kuttler, Jr will be inducted into the Goshen High School Hall of Fame this year. Robert Schanz, a former Band director and music teacher from 1959-1965 and 1973-1982, Deceased Goshen High School War Veterans and William Carl Kuttler Jr, Class of 1987 and a 1994 West Point graduate. We hope that you will join us on May 10th as we honor these outstanding inductees.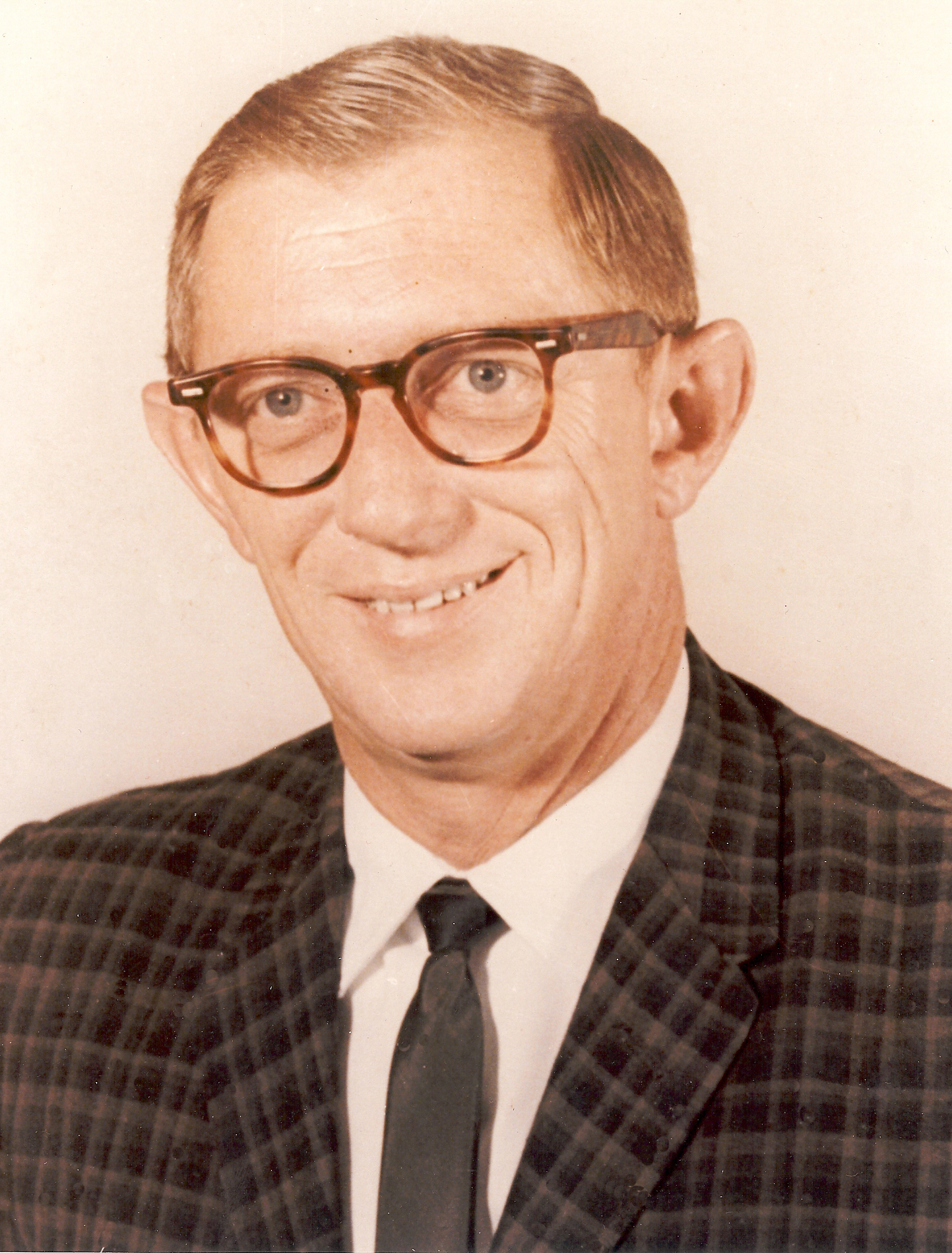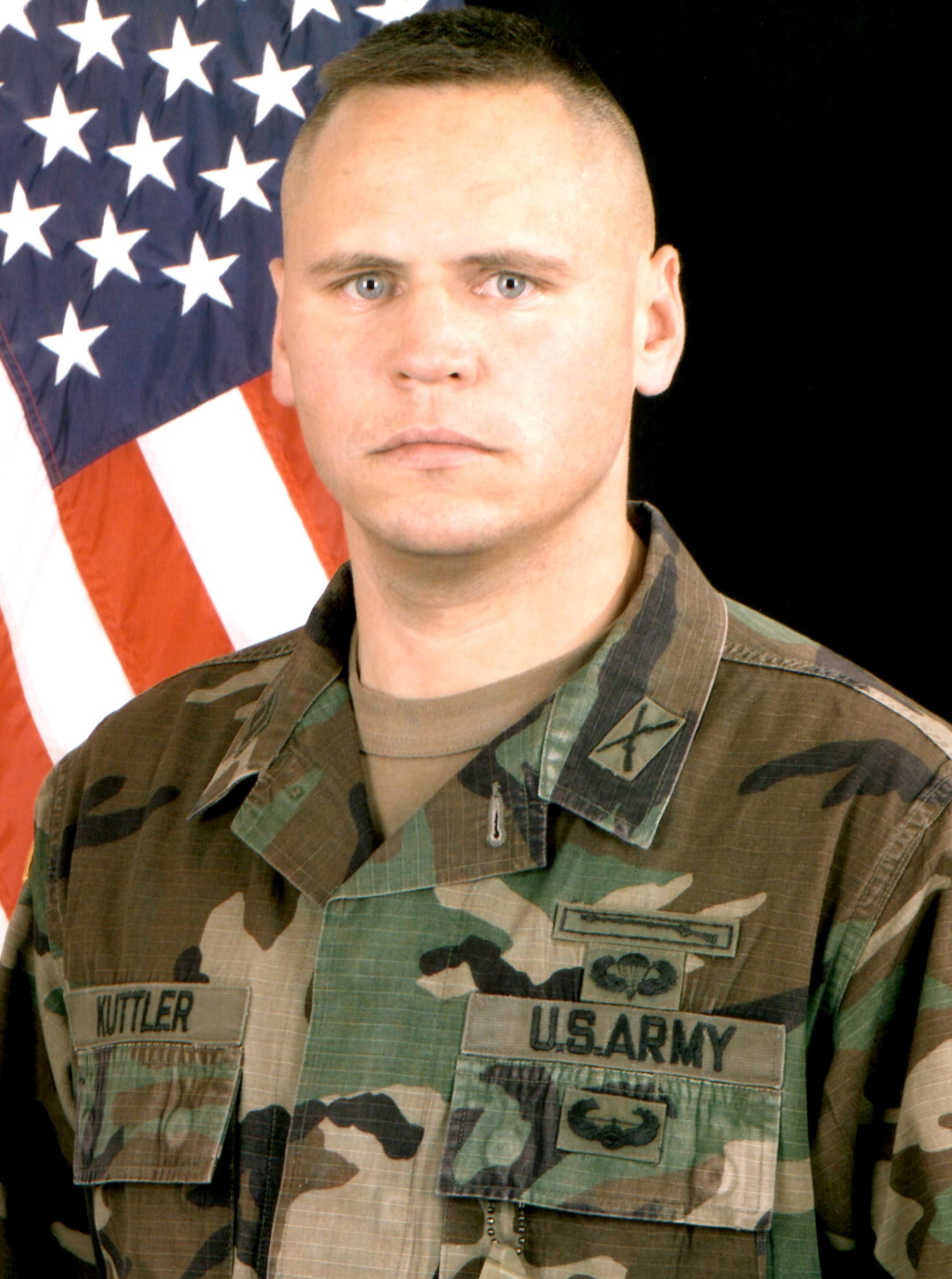 Robert Schanz Deceased GHS War Veterans William Carl Kuttler, Jr
---
Page 2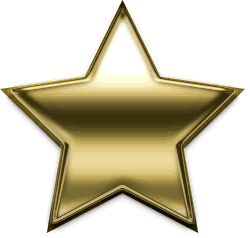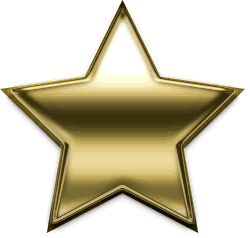 2013 Scholarship Donors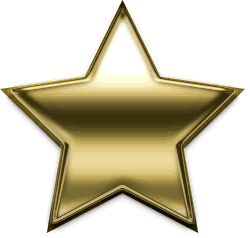 April 2013 - March 2014
We want to thank all of the generous contributors to the GHS Alumni Association.
Thank you again for your donations and support.
Please let us know if we omitted anyone from this list.
Emerson and Violet Adkins Pat and Sally Maynard IMO Roger Sullivan
Donald and Deborah Andrews Candy Meadors
Patsy and Louis Binkley Tim Moore In Memory of Sue Holt
Mary Bodley Lela and Jim Morgan In Memory of Roger Sullivan
Dottie and Lytle Brown Janet Oligee
Mary Jones Butts Pat Palmer In Memory of Roger Sullivan
Denise Carl In Memory of Patricia Golden Jeanette Philhower In Memory of Zachary Cruz
Betty Christman - Ina Binkley, Robert & Wm. Christman Diane Pierson In Memory of Fred G. Pierson
Mary Cox In Memory of Linda Brown Catherine and Robert Pray
Joyce and Rod Croley In Memory of Sue Holt Richalee Rice
Dorothy Back-Eklund Nancie Nordheim Rissing
David Ereira & Family In Memory of Roger Sullivan Mona Rohne
Frank and Judith Fender Jan and Carl Schoellman
David and Sally Fox Rosemary and Carl Schrichten
Daniel Garrett Steve and Jackie Schwinn
Hillary Gatio Mark and Diane Slagle In Memory of Sue Holt
Martha Hendrix In Memory of Roger Sullivan Lou Smith In Memory of Roger Sullivan
Paul Hines Art Snider
Susan Hines In Memory of Roger Sullivan Jerry and Linda Sullivan
David Irwin Family Jennifer Rose Sutphen
Bob Irwin Mike and Lois Pappas Swift
Bruce and Janice Kannenberg Pamela Trester
Ruth and Carla Kannenberg In Memory of Roger Sullivan Shirley Trester
Betty Jean and Robert Keiser Lisa Ulrich In Memory of Roger Sullivan
Ron Kidd In Memory of Eleanor Rose Kidd Erwin Walker, Jr
George Kinnard JoAnne Ward
Mary Jo and Wayne Langguth Robert and Helen Winterberger
Garland Manes Patricia Wise In Memory of Roger Sullivan
Kathryn Stagge Marr Jeanette and Jerry Wyatt Family
Janet Noertker Martin In Memory of Roger Sullivan
---
Page 3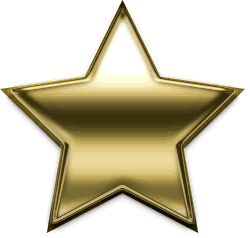 2014 GHS Alumni News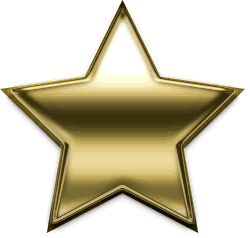 The Goshen High School Alumni Association will be having its 116th annual alumni banquet on

Saturday, May 10, 2014 at Goshen High School. The evening will begin with a Friendship Hour at 4:00 pm in the Goshen High School lobby. A video presentation of the time capsule being opened will be shown in the community room off the high school lobby. Appetizers and beverages will be provided by the alumni committee during the Friendship Hour. The Friendship Hour is free for anyone wishing to attend. Dinner will follow the Friendship Hour and begins at 6:30 pm. The dinner cost is $15.00 per person.

This year, we will honor the classes of 1964, 1969, 1974, 1979, 1984, 1989, 1994, 1999, 2004, and 2014. We need one member of each honored class to introduce their class members. If you would like to be the representative for your class, please contact Candy Meadors at 513-310-2626. In order to make it more comfortable, we will be setting 50 more places for grads to sit together. It may take a little longer to be served since we can't preset the salads, but it will allow for groups to sit together.

Any group having 10 or more members can request a reserved seating area.

During the banquet, we will be inducting our newest Hall of Fame members, as well as presenting our scholarships to this year's winners. Last year, eight recipients received scholarships in the amount of $1,000 each. The deserving graduates were Ryan Hicks, Ryan Saylor, Kristen Dorton, Tyler Stewart, Bobby Taylor, Tierra Marinelli, Alena Moore and Alex Edwards. Our scholarships vary from year to year, depending upon the donations we receive from our alumni.

The alumni association has been working on several projects this year. Our facebook page is growing every day, so check it out if you haven't joined yet. We paid Fugett's to recreate the 1983 and 1979 class photos from the yearbooks, so we can post them in the high school lobby. Thanks to Joe Spaulding, we copied old newspapers called the Goshen Booster and will have copies for sale on our webpage gift shop. We also sold bricks from the 1908 building to add to our scholarship fund. We want to thank everyone who bought a memento from our past and thus contributed to a Goshen senior's future.

The alumni also received several special donations this year. Eric Marr sent us photos of Kathyrn and Larry Marr that are treasures for our web page and archives. Don and Deb Andrews have provided generous support for our scholarship fund for a very long time. Tom Hartley donated items from his mother, Aileen Ireton, Class of 1930. The items include the 1908 dedication booklet, autograph books, newspapers, class photos and many more gems that we cherish. In appreciation of their support and generosity, we are presenting them with our special Thank You Award.
---
Page 4
<![if !vml]>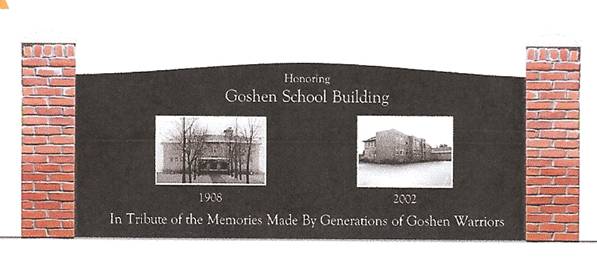 <![endif]>

The Goshen alumni, school, businesses and other community members are building a monument to the old 1908 building. They have created a Warrior Monument as a visible reminder of our educational roots. The stone donated by Tufts Schildmeyer is finished and hopefully, it will be installed by our alumni banquet. It will be located in front of the high school surrounded by a brick patio. A $100.00 donation will put your name on a brick, with a $250.00 or more donation placed on a plaque on the monument. Any amount will be gratefully accepted and is tax deductible. Go to our website goshenalumni.com and look under the news and notes link for more detailed information. Checks can be sent to the Goshen Local School District, 6694 Goshen Rd, Goshen, Ohio 45122.

Please look at your envelope and check the addressed information. If you do not have a

graduation year listed on the second line, please contact Joyce Croley at 937-783-4329 or by email at historian@goshenalumni.com. If you now have an email address, we would also like you to send us that information too. Not too far in the future, we will have to send out our newsletter by email and will need your email address. If you are planning on moving soon, or got this copy from your parent's address, please send your new address to Joyce Croley at historian@goshenalumni.com.

Dinner Reservations

Tickets $15.00 per person

You may obtain dinner tickets by enclosing your requests with a check for the dinner(s).

Please include your graduation year on your check. If you would like to have your dinner tickets mailed to you, please enclose a SELF-ADDRESSED STAMPED ENVELOPE. You may contact Candy Fisher Meadors ONLY for dinner tickets at 513-310-2626 in the evening or weekend hours. THE DEADLINE FOR REQUESTS FOR DINNER TICKETS IS MAY 2, 2014. All checks for dinner tickets should be made out to the GOSHEN HIGH SCHOOOL ALUMNI ASSOCIATION.

We are looking forward to seeing you on May 10, 2014 at the banquet or friendship hour.
Mark Slagle
President
Goshen High School Alumni Association