Bill Schmidbauer
2009 Hall of Fame Inductee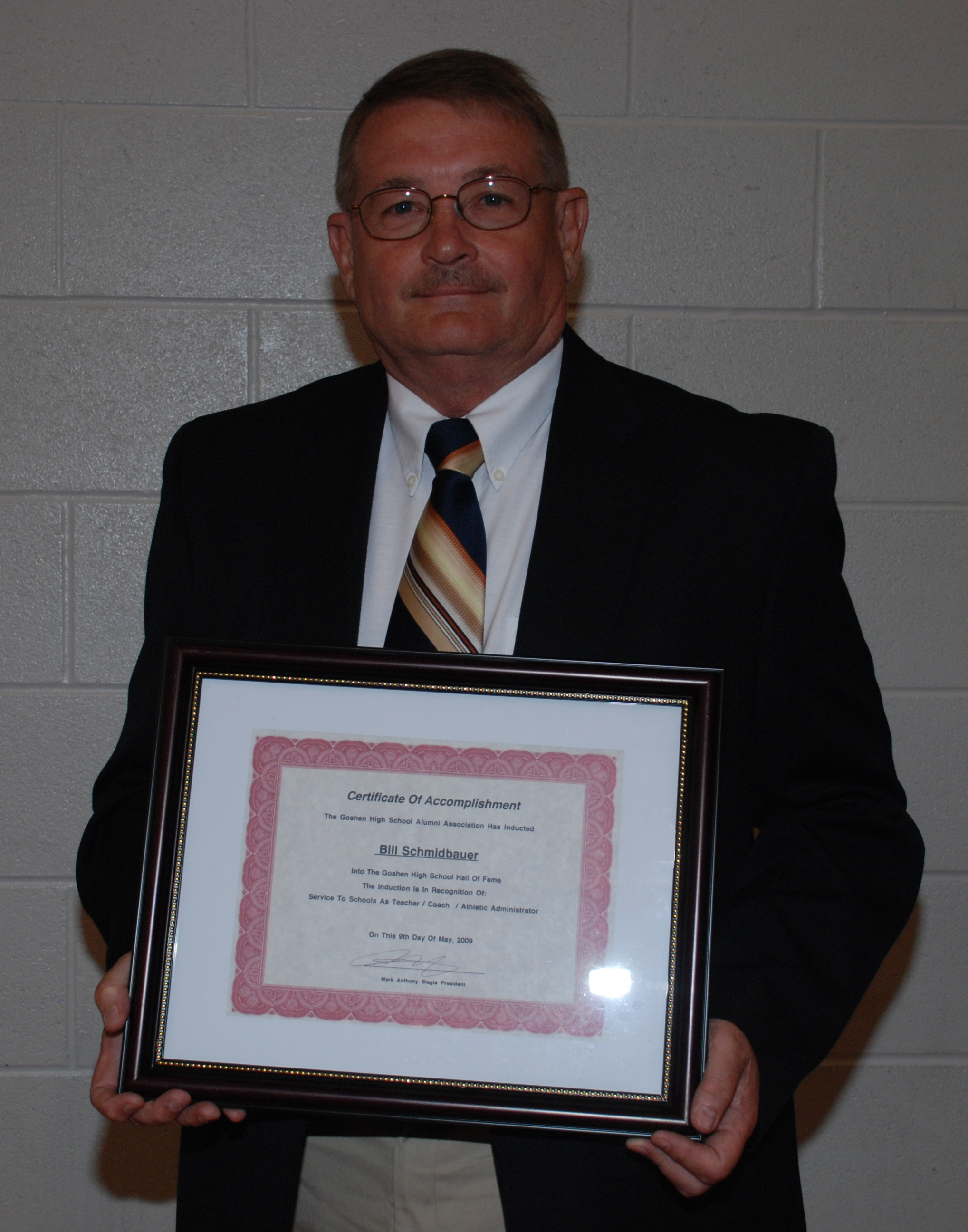 Bill Schmidbauer was a teacher, coach and athletic administrator during his 35 year career at
Goshen High School. Bill's career spanned from 1969 to 2004. During that time, he coached boys
and girls basketball, boys and girls track, boys and girls cross country and girls volleyball. He was
named Conference " Coach of the Year " at least once in each of those sports.
Coach Schmidbauer started the cross country program in 1969. From 1973 to 1990 Goshen
qualified either a team or an individual to the State Cross Country Meet in Columbus ( 8 teams and
14 individual). His teams won 12 Conference Championships, 7 district championships and 3 Regional
championships. His 1981 and 1989 teams both finished in the top 5 in the State Meet. He was named
"Coach of the Year " by the State Coaches Association in both 1981 and 1990.
He coached basketball at Goshen for 32 years; 8 years in boys basketball and 24 as head girls
basketball coach. Altogether he won 411 games, more than any other basketball coach.
He won games in five different decades beginning with the 1960's. His 311 girls varsity basketball wins
ranks him in the top 50 all time girls coaches. In 2002, he was awarded the Bob Arnzen Award and
enshrined in the state basketball coaches association hall of fame. His teams won 12 conference
championships, two district championships, five sectional championships and a regional runner-up.
He was named " Coach of the Year " in 1990 by the state coaches association.
Bill was assistant athletic director from1983 until 1995. He served as athletic director from 1996
to 2004. During his tenure as AD, he helped devise the plan to renovate the Jim Brown Stadium with
a track, new bleachers, new lights, new scoreboard, restrooms, concessions, entrance and on-site
locker facility. He added boys and girls bowling, girls tennis and girls swimming as sports. Goshen also
began to host OHSAA tournaments in wresting, volleyball and girls basketball. Goshen was awarded the
OHSAA sportsmanship Award six straight years. He was named Athletic Director of the Year in
Southwest Ohio in 2003.
Bill is married to Goshen Local School's Assistant Superintendant, Jane H. Schmidbauer. His son
Cary and daughters Shannon and Lara attended Goshen Schools. Bill was nominated by Mark Slagle.